V1.40 January 2017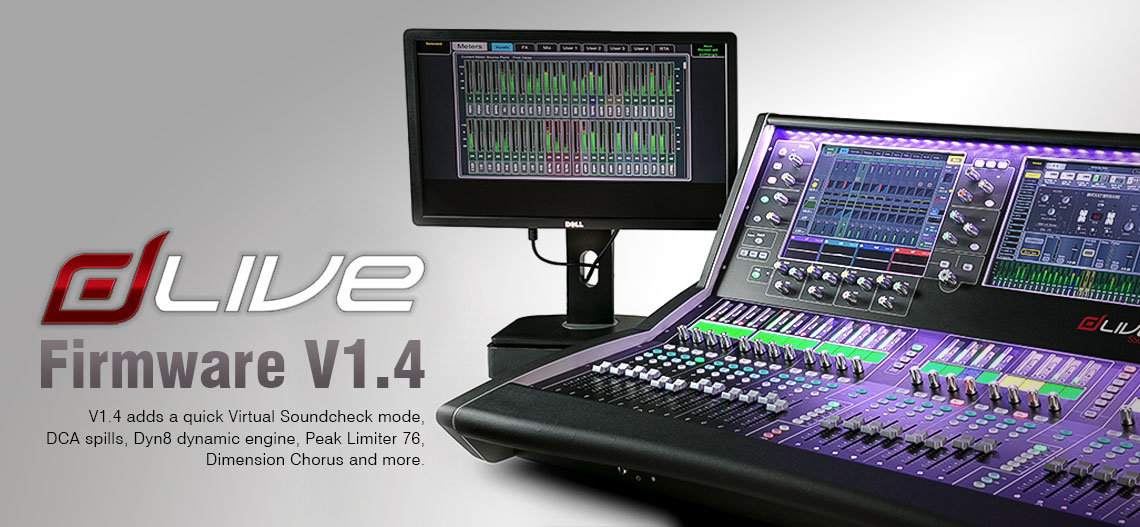 New Features
* Virtual Soundcheck mode
* DCA spills
* Dyn8 insert-able dynamic engine
* DEEP Processing Peak Limiter 76
* Multistage ducking
* Dimension Chorus effect
* 3 screen view on VGA output
* Support of dLive C Class products and fibreACE audio networking card
Improvements
* Several improvements to dLive Director including addition of strip rotary controls, option to undock the TouchScreen window, support of User Profiles and User Permissions.
* The source point for the Surface LED meters can now be selected.
* PSU status and gigaACE redundancy link status for the Surface and MixRack are now displayed in the Home screen. ( demande de SNO TECHNIQUE )
* New M-MADI options to ignore stream errors, allowing wider compatibility with third parties.
* Simplified event logs displaying history notifications only.
* Analogue insert returns now compensate for the +4dBu nominal level on output XLR.
* Resetting Preamp or Compressor no longer resets the model type.
* Main channels are now automatically renamed after a Main bus configuration change.
* The bank selection in Strip Assign now follows the Surface bank selection.
* Improved drag and drop behaviour of Custom strip setup in dLive MixPad.
* Addition of third Custom strip to dLive MixPad.
Fixes
ID2419 Performing a Firmware Update while dLive Director was connected to the Mixrack could cause the update to fail.
ID885 Disconnecting a screen from the Surface VGA port while dLive was running could cause the left touchscreen to stop working.
ID533 Changing GEQ type could sometimes generate low frequency noise.
ID3444 Delay settings could be erroneously displayed after a bus configuration change.
ID3009 Assigning a de-esser to the Soft Rotaries would generate errors.
ID2916 IP Controllers connected to the Surface could sometimes cause subtle meter lag.